Above: 2018 Scholars Lisa Huang, Jingru Lin, Theresa Hencinski, Sreynuon Men, and Courteney Parry (Not Pictured: Ibn Coleman, Megan Febles, and Jalen Mitchell)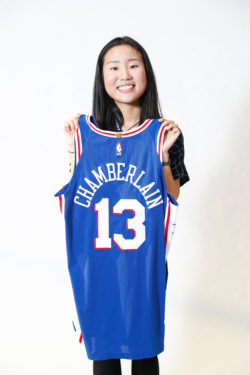 Philadelphia 76ers Hall of Famer Billy Cunningham stepped to the podium on Monday looking out at the crowd of future leaders, thinking of his late, great friend and teammate Wilt Chamberlain.
"If Wilt was here today and watched all of you being awarded your scholarships to attend your respective universities, he'd probably be in tears," Cunningham said.
Shortly after Cunningham addressed the audience, five of the eight members of the 2018 Class of Wilt Chamberlain Memorial Fund Scholars walked up one-by-one to officially accept the scholarships in support of their continued educational pursuit.
The Fund, which Cunningham is a Board Member of, has awarded more than 90 scholarships since 2005 to high school seniors in the Greater Philadelphia area.
This year's recipients include:
Ibn Coleman of Camden, NJ attending Rutgers University (New Brunswick)
Megan Febles of Phoenixville, PA attending Delaware County Community College
Theresa Hencinski of Secane, PA attending Penn State University
Lisa Huang of Philadelphia, PA attending Case Western Reserve University
Jingru Lin of Philadelphia, PA attending Villanova University
Sreynuon Men of Philadelphia, PA attending Drexel University
Jalen Mitchell of Norristown, PA attending Howard University
Courteney Parry of Pottstown, PA attending Lehigh University
The scholars are selected based not only on their academic accomplishments and financial need, but also their embodiment of Wilt Chamberlain's characteristics of hard work and the pursuit of greatness, as well as a passion for volunteering and serving others.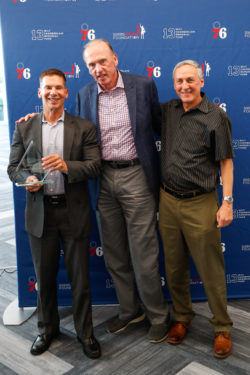 Jingru Lin, who was one of the five scholars attending the event at the 76ers Training Complex in Camden on Monday, said she was pleasantly surprised – given the competitiveness of the scholarship – when she first heard news that she had been selected to the 2018 Class.
"The first person I contacted was my parents, and I let them know that their financial burden would be lightened," Lin said. "My sister and I are twins, and we are attending college at the same time, so the financial burden to them is very heavy. It was great news."
As part of the program, each of the scholars was matched with a mentor from the 76ers organization. The mentors will check-in with their mentees on a monthly basis and assist them on their collegiate journey.
Alongside the five scholars were their families, friends, teachers and counselors. Other distinguished guests in attendance included Chamberlain's long-time friend and Philadelphia basketball legend, Sonny Hill, and Steven Rosen, Managing Director of Aloysius Butler & Clark.
In addition to celebrating the new scholars, WCMF also honored Aloysius Butler & Clark with the Most Valuable Partner Award. AB&C revamped the Wilt Chamberlain Memorial Fund Website with creating a modern contemporary look.