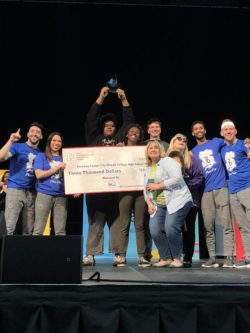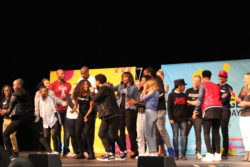 The Philadelphia 76ers and the Wilt Chamberlain Memorial Fund joined Reach Higher's 5th Annual College Signing Day with Former First Lady Michelle Obama at Temple University's Liacouras Center today. The event, which was attended by more than 7,000 high school students in Philadelphia, was a day-long celebration for the tremendous accomplishments the students achieved in pursuing secondary education.
The WCMF made a special presentation at the event to the five local schools who had the highest FAFSA completion rate among their students. Congratulations to Paul Robeson High School for Human Services, Constitution High School, Overbrook High School (Wilt's alma mater), Jules E. Mastbaum Area Vocational Technical High School and the winner of the 2018 FAFSA Challenge, Parkway Center City Middle College High School.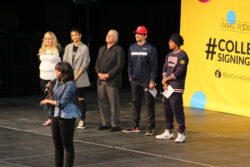 A special video message from Philadelphia 76ers players was shown at the event. The 76ers alumni Marc Jackson, and Dikembe Mutumbo were in attendance, joining celebrity guests Nick Cannon, Ciara, Camila Cabello, Zendaya, Bradley Cooper and more.